The Non-Surgical Alternative to Plastic Surgery After Weight Loss in Mexico
Losing a significant amount of weight in a short period of time is a great achievement, but it often comes with the unwanted side effect of loose, sagging skin. This is because as we age, our skin loses its elasticity, which means that even with diet and exercise, loose skin is a common issue after major weight loss. The most common, affordable solution for this problem is to go undergo plastic surgery after weight loss in Mexico or countries outside of the US that are known for being affordable. 
However, the risks and complications associated with this kind of surgery can be daunting, including the massive scarring that can occur when removing excess skin. Renovo Health and Beauty in Tijuana, Mexico offers a variety of products and services to help our patients look their best. We also offer alternative solutions for those looking for a solution to that excess skin they might observe after losing a lot of weight in a short amount of time. 
Non-Invasive Body Contouring with INDIBA Elite NS
If you want to achieve toned and tightened skin without going through the hassle of surgery after weight loss in Mexico, Renovo Health and Beauty in Tijuana can help you with our non-surgical body contouring treatment using the INDIBA Elite NS. This top-of-the-line radiofrequency device helps to tighten the skin, allowing the collagen to synthesize, thereby, resulting in a more youthful appearance.
The INDIBA Elite NS is a non-invasive procedure, which means that it does not require any surgery. Instead, it uses radio waves to heat the skin's deeper layers, which helps to stimulate the production of collagen and tighten the skin, leading to the reduction of fine lines and wrinkles. As a result, this procedure is a safe and effective way to achieve the desired results without the need for incisions and extended recovery periods, unlike plastic surgery after weight loss.
Furthermore, the radiofrequency skin tightening procedure is quick and easy, which means that you can get it done in a short amount of time and get back to your daily routine shortly after. So, if you want to experience non-invasive body contouring that is both safe and effective, INDIBA Elite NS at Renovo Health and Beauty is the perfect choice for you.
Benefits of Radiofrequency Skin Tightening
When it comes to improving the appearance of your skin after losing weight in Mexico, you have several options to choose from. One of the newer, high-tech solutions is radiofrequency skin tightening, which offers numerous benefits over traditional plastic surgery.
First and foremost, radiofrequency skin tightening is a much more affordable option than surgery. This is especially important if you're already on a tight budget after your weight loss journey. You'll be able to achieve the results you want without breaking the bank.
Another major advantage of radiofrequency skin tightening is that it carries a much lower risk of complications than surgery. You won't have to worry about infections, scarring, or the need for revisional surgery, which can be a major concern with traditional surgical procedures.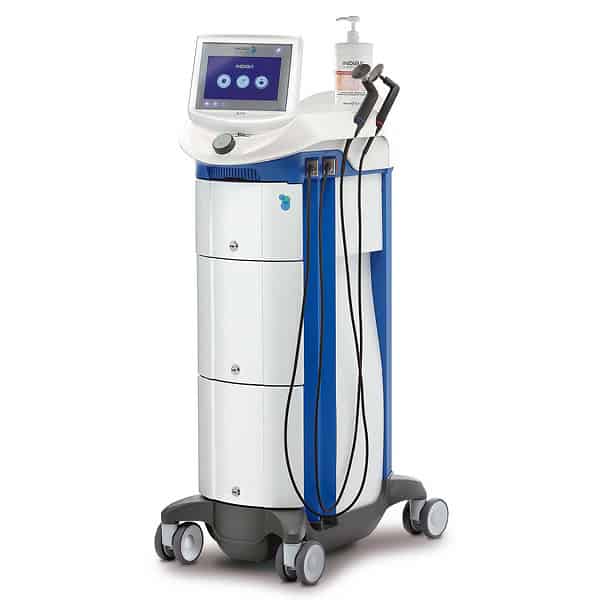 In addition, radiofrequency skin tightening requires minimal recovery time. You'll be able to return to your daily routine immediately after the treatment, without having to take time off work or dealing with a lengthy recovery period. This means you can get back to your normal life as soon as possible, without having to put your plans on hold.
Why Choose Renovo Health and Beauty?
If you're looking for a safe and affordable way to enhance your body shape, then Renovo Health and Beauty is the perfect choice for you. They offer the latest technology in body contouring with the INDIBA Elite NS, which is a non-invasive and painless treatment that delivers amazing results.
Our facility is equipped with state-of-the-art amenities and is maintained to the highest standards of cleanliness to ensure that you feel comfortable and well taken care of throughout your experience. Moreover, our team of highly trained professionals will guide you through the process and answer any questions you may have, ensuring that you feel confident and informed.
In addition to our top-notch service, Renovo Health and Beauty is also committed to making our treatments accessible to all. They offer much more affordable pricing than in the United States, making non-invasive body contouring with radiofrequency a viable option for people who may not have been able to afford plastic surgery after weight loss. This means that you can achieve your desired results without breaking the bank.
So why wait? Choose Renovo Health and Beauty and experience the transformation you deserve!
Contact Renovo Health and Beauty Today
If you're interested in tightening and toning your body without undergoing plastic surgery after weight loss in Mexico, contact Renovo Health and Beauty today to learn more about our body contouring services. With our cutting-edge INDIBA Elite NS equipment and expert staff, they can help you achieve the body you've always wanted. Say goodbye to sagging skin and hello to a more youthful, toned appearance with non-invasive body contouring.